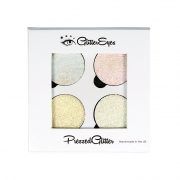 Rainbow Unicorn Quad
Embrace the super beautiful Rainbow Makeup trend,with our RainbowUnicorn Quad Palette.
A combination of super high-quality pigments that produce great color pay off.
Shine bright like a diamond and use theses beauties as highlight or eye shadow for vivid light reflecting color shifting rainbow makeup effects!
The performance of this makeup is second to none, the pigmentation, durability and color payoff is of the very highest quality. Once you have used these babies you will never look back! They feel like silk to the touch, super long lasting and so easy to blend. They are the most beautiful shadows you will ever experience.
Ingredients; highest purity cosmetic grade colored micas, Vegetable Glycerine binding agent), Alcohol Denate (sanitizing medium/preservative)