Fairy Raffle - for the Eden Eyre Fairy Project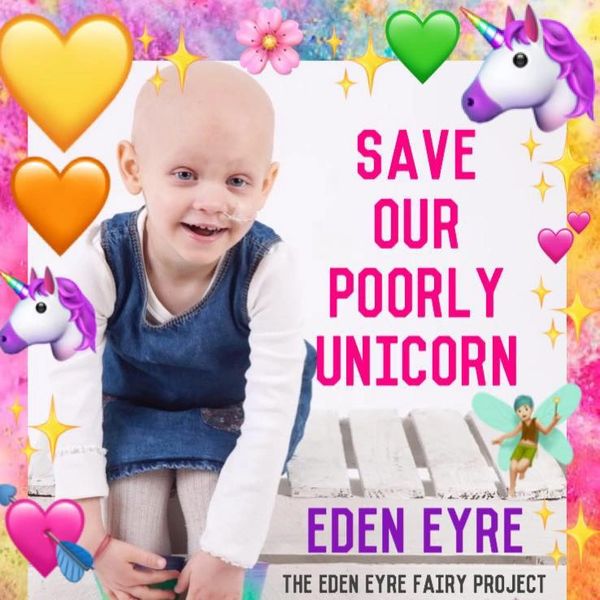 Fairy Raffle - for the Eden Eyre Fairy Project
This £1 ticket will enter you into our Fairy Raffle. You could win a Goody bag of all Fairy things worth £200. All Money raised on this raffle will go directly to the Eden Eyre Fairy Project.The Winner will be announced on Sunday 12th August. Please check out Edens story below:
EDEN EYRE FAIRY PROJECT
As many of you already know our little Eden was diagnosed with Neuroblastoma on the 6th July 2017, when she was just 2. It has been hard on everyone, but especially Eden.
No child should have to go through this horrific ordeal so we, as her family and friends, wanted to create a little bit of magic for her to help her get through this journey.
We originally began this page as Eden is a strong believer of fairies and unicorns & they really comforted her and made her feel safe during what has been a traumatic time. We asked if people would get creative and send in any drawings and pictures from Fairies so that we could have some magic post to open with her during her lengthy, painful, hospital stays.
WOW. We didn't for a second expect to receive the response we did.
We were completely blown away with the thoughtfulness, kindness, generosity and sheer love we received from friends & strangers worldwide. You can see on the page the amount of
✨magic
✨ that came our way! We received magical post from Holland, Australia, Uganda, America, Canada... the list goes on!
It's been completely overwhelming to see how much everyone has supported us and got behind us to fight the effects of this horrific disease & help us to stay strong. No one is more grateful than Eden herself.
After endless weeks of hospital stays, scans, blood tests, blood transfusions, injections, chemo, tears, hair loss, weight loss, sleep deprivation, needles.... our little unicorn is starting to come back to her sparkly self
🦄
✨
Neuroblastoma is an aggressive form of childhood cancer which has an 82% chance of relapse within the first 2 months.
This fact is horrifying but the sad truth & as a family, we are determined to do everything possible to minimise this from happening.
There is a vaccination called Bivalant that is only available in America. The cost of this treatment is a massive estimated £200,000. This will cover all medical costs.
We have until the end of Summer to raise this money to get Eden to America in time for this life saving treatment... but we need your help!
During the next few months we will be running different events & fundraising dates & we need you to help spread the word.
If you are able to donate anything at all to help get our little unicorn to America for this potentially life saving treatment, we will be forever grateful to you
❤️
Please find out Just Giving page here:
https://www.justgiving.com/…/thebradleyloweryfound…/edeneyre
🎉 PLEASE CAN WE ASK YOU TO LIKE & SHARE THIS TO SPREAD THE WORD
🎉
LOTS OF LOVE & FAIRY DUST
🦄
🌈
✨
Thank you
💕
✨
❤️
🦄
🌈
🌿
THE EDEN EYRE FAIRY PROJECT